Seasonal in June:
Asparagus, aubergine, beetroot, broad beans, broccoli, cabbage, carrot, cauliflower, chillies, courgettes, cucumber, fennel, fine beans, french beans, garlic, ginger, globe artichokes, heirloom, helda beans, iceberg, jersey royal new potatoes, kale, kohlrabi, lettuce & salad leaves, mangetout, mushroom portobello, other mushrooms, new potatoes, onion, pak choi, peas, peppers, piccolo, potatoes, radishes, rhubarb, rocket, runner beans, samphire, spinach, spring onion, swede, tenderstem broccoli, tomatoes, turnip, watercress and wild nettles.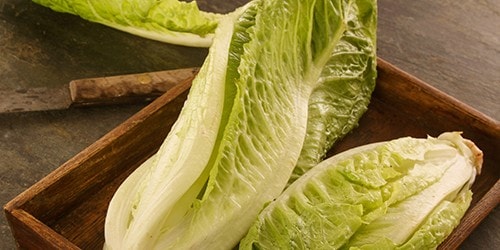 GEM LETTUCE:
At its best: March to November, peaking in May
Gem lettuce is crisp and buttery with a subtle sweet flavour, it's favoured by chefs for its crunchy texture and ability to withstand heat in cooking. It's great torn up fresh into a salad to accompany meat, fish, or other vegetables - splashed with a citrus vinaigrette. The grooves of the leaves soak up all the flavours and cut fats, it can also be pan-fried, braised, or grilled. Gem lettuce pairs well with citrus, salad ingredients like tomatoes or radishes, green vegetables, cream or vinegar-based dressings, and most herbs.
Chef Suggestions: For a faultless seasonal salad, try pairing your gem lettuce with blue cheese, bacon, and croutons to enhance its flavour profile.
We recommend: Grill the gem lettuce as a garnish for chicken, guineafowl, or fish dish. For a different approach to your Sunday roast, sauté with peas, butter, stock, and bacon.
Flavour pairings: Mayonnaise, lemon, caper, olive, mint, chive, pea, walnut, parmesan, anchovy, bacon, toasted bread, and blue cheese.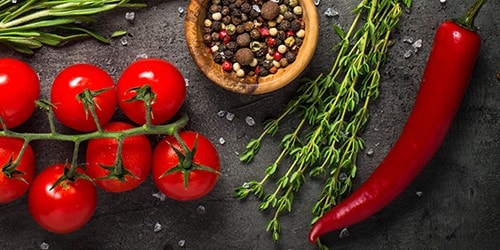 CHERRY TOMATO:
At its best: July to September
Cherry tomatoes are small, sweet, and juicy - making them the ideal snack or ingredient (raw or cooked). They are usually best served whole and raw to maintain their juiciness, in salads or in pasta dishes, whilst the tomatoes develop a richer flavour when roasted. A good drizzle of olive oil, salt, pepper, and basil are simple yet effective garnishes to bring out the tomato's flavour. Foods such as feta or goats' cheese, vinegar, or dried herbs will counteract the sweetness.
Chef Suggestions: Tomatoes are extremely versatile and can be cooked in numerous ways. When you need to use up tomatoes, they are great as a part of a traditional base, sauce, and soup.
We recommend: When preparing tomatoes, you can fry, sauté, grill, and roast them to enhance their flavour profile. Tomatoes are great to puree or dehydrate for a rich dish.
Flavour Pairings: Cheese, Basil, onion, garlic, olive, caper, coriander, rosemary, thyme, lamb, fish and shellfish, and avocado.

Stay on top of the game with the latest seasonal inspiration, ideas, trends and recipes with our newsletter.