Seasonal in August:
Artichokes, aubergine, beef tomatoes, beetroot , broad beans, broccoli, celery, cabbage, carrots, chard, cauliflower, cavolo nero, chillies, courgettes, cucumber, fennel, french beans, garden peas, garlic, heirloom, kale, king oyster mushrooms, kohlrabi, leeks, lettuce & salad leaves, mangetout, marrow, swede, onion, pak choi , peppers, piccolo, potatoes (maincrop), radishes, rocket, runner beans, spinach, spring onions, squash, sweetcorn, tenderstem broccoli, tomatoes, turnip and watercress.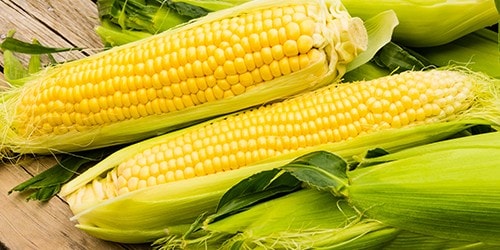 SWEETCORN:
At its best: All year round
Sweetcorn, like its name, is very sweet, soft, and buttery - which you can boil, steam, microwave, roast, or BBQ. It's a perfect summer side dish that works well in salads or barbecued to go with the rest of your platter.
Chef Suggestions: For a tasteful dish try sweetcorn fritters mixed with chilli, lime, and coriander.
We recommend: When preparing sweetcorn, you can grill or roast it straight from the cob for a traditional garnish to your dish. We also recommend using the kernels through a compound salad or pureeing to be used as a garnish. Alternatively, use it as a base for a delicate sweetcorn soup.
Flavour pairings: Chicken, butter, chilli, and chicken.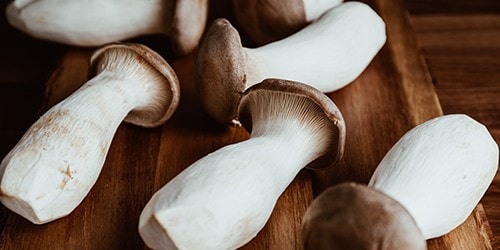 KING OYSTER MUSHROOM:
At its best: May to October
These mushrooms can be prepared in a variety of ways and have a nutty, woody, and earthy flavour. King oyster mushrooms are a great vegetarian or vegan alternative to meat because of their firm texture and mild fishy flavour. They taste great when roasted, stir-fried, pan-seared, or grilled. Their flavours and aromas are released when cooked in oil or fat.
Chef Suggestions: King oyster mushrooms are great when simply sauteed in butter, garlic, and parsley. Great as a garnish, paired classically with pasta and risotto. 
We recommend: Utilise king oyster mushrooms in plant-based dishes as a tasty meat alternative. 
Flavour pairings: Cheeses, rosemary, thyme, chicken, guinea fowl, beef, egg, bacon, pancetta, tarragon, apricot, and garlic.

Stay on top of the game with the latest seasonal inspiration, ideas, trends and recipes with our newsletter.