Seasonal in May:
Asparagus, aubergine, beetroot, broccoli, cabbage, carrot, cauliflower, chillies, cucumber, French beans, helda beans, jersey royal new potatoes, lettuce & salad leaves, mushroom portobello, other mushrooms, new potatoes, parsnip, peas, peppers, potatoes, radishes, rhubarb, rocket, samphire, spinach, ginger, spring onion, swede, tenderstem broccoli, tomatoes, turnip, watercress, and wild nettles.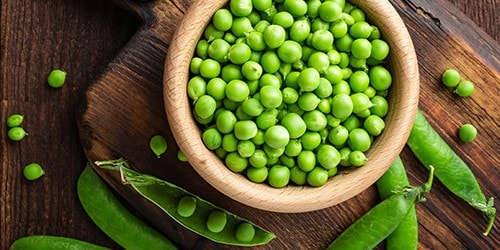 PEAS:
At its best: March to October
The flavour of peas can vary depending on the type, but overall, the flavour remains the same: a combination of sweet and savoury. Peas are classically paired with foods such as carrots, potatoes, fish, and chicken - but also go particularly well with herbs and spices, and grains like pasta and rice. They are a healthy and easy addition to most meals.
Chef Suggestions: Peas are particularly great in soups due to their high nutritional value. We suggest pairing peas with bacon for a flavourful dish.
We recommend: Enjoy as a minted pea puree, paired with roasted lamb. A great classic side for fish and chips served with minted butter.
Flavour pairings: Bacon, chicken, lamb, mint, onion, shellfish, and white fish.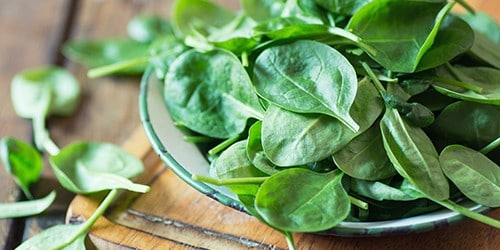 SPINACH:
At its best: All year round
This superfood is full of vitamins and iron and has a mild, slightly sweet taste when raw but a more robust and acidic taste when cooked. Spinach should always be washed well due to the build-up of sand in the leaves and stems. Boiling spinach brings out its sweeter taste, leaving the pot lid off helps to draw out more of the acids with the rising steam. It goes well with eggs, soups, casseroles, or pasta dishes – but especially well with cream cheeses.
Chef Suggestions: As a light dish, pair your spinach with ricotta pasta. 
We recommend: Enjoy spinach as a salad leaf, in soup or enhance the flavour by sautéing with butter. Spinach not only adds great flavour and consistency to a dish but also adds a boost of nutritional value.
Flavour pairings: Mushrooms, oily fish, lamb, nutmeg, cheeses, garlic, nuts (almonds, cashew, hazelnut, pine nut), and olive.

Stay on top of the game with the latest seasonal inspiration, ideas, trends and recipes with our newsletter.