Seasonal in April:
Asparagus, beetroot, broccoli cabbage, carrot, cauliflower, cucumber, swede, jersey royal new potatoes, turnip, lettuce & salad leaves, celeriac, purple sprouting broccoli, French beans, radishes, helda beans, rocket, other mushrooms, rhubarb, samphire, other potatoes, spinach, spring onions, watercress, wild nettles, mushroom portobello, onion and parsnip.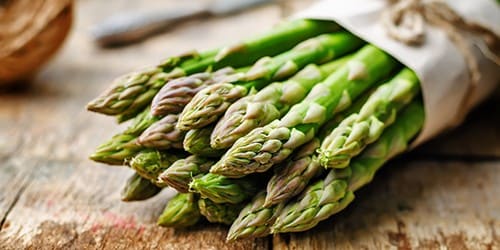 ASPARAGUS:
At its best: March to June
The flavour of asparagus depends on its colour: while green and white have a subtle sweet-bitter and earthy-grass taste, purple asparagus tastes sweeter and wild asparagus has a more delicate flavour. Asparagus can be eaten raw or cooked and goes great with a squeeze of lemon or fried in some butter. The bigger the spears, the more tender they taste, but be careful not to cook them for too long or they will lose their flavour and become limp.
Chef Suggestions: When cooking asparagus, it can be best enjoyed blanched, grilled or sauteed.
We recommend: Simply prepare your asparagus with poached eggs and hollandaise for a classic brunch dish. 
Flavour pairings: Hollandaise, lemon, eggs, shellfish, truffle, and firm white fish.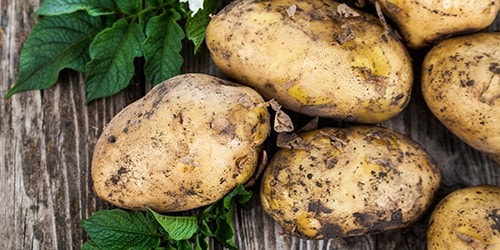 JERSEY ROYAL POTATOES:
At its best: April to July
These sweet, nutty potatoes are delicious and high in vitamin C. Unlike most other potatoes, for that ultimate earthy flavour, it's best to leave their flaky skins on. The most traditional way to cook Jersey Royals is to boil them and add lots of butter, salt, crushed garlic and thyme. They're a go-to for summer recipes like salads and BBQ spreads.
Chef Suggestions: The classic Jersey Royal is best kept simple.
We recommend: Jersey royals lightly boiled or ideal for quick roasting.
Flavour pairings: Mint, butter, seafood, caviar, dill, olive, parsley, pea, oily fish, and horseradish.

Stay on top of the game with the latest seasonal inspiration, ideas, trends and recipes with our newsletter.