Seasonal in December:
Beetroot, cabbage, carrot, cauliflower, cavolo nero, celeriac, celery, chard, chicory, horseradish, Jerusalem artichoke, kale, kohlrabi, leeks, onion, onion red, parsnips, portobello mushroom, potatoes (maincrop), purple sprouting broccoli, salsify, shallots, spinach, spring onion, brussels sprouts, swede, truffles (black), truffles (white), turnips and wild mushrooms.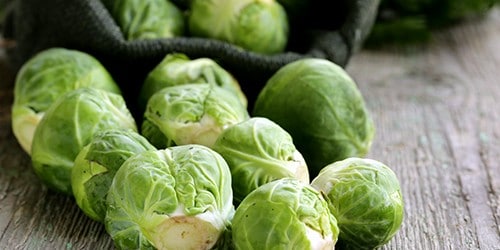 BRUSSELS SPROUTS:
At its best: September to February
Brussels sprouts are sweet, nutty, and smoky, but depending on their size, they can vary in taste. The smaller they are, the sweeter the sprout - the key is to not overcook them. To get the best tasting sprouts, opt for roasting or sautéing them in olive oil, salt and pepper, as this brings out the natural sugars, giving them a caramelised finish. For a smoky flavour, mix with pancetta or bacon, honey for sweetness, or parmesan cheese for nutty notes.
Chef Suggestions: Sprouts are notoriously paired with your roast dinner, but equally great within salads and seasonal slaws. 
We recommend: Pan-fry the sprouts with butter, a drizzle of lemon and glaze with soy sauce. Alternatively, roasted sprouts pair perfectly in a salad with honey, sweet potatoes, goat's cheese, toasted pecans, and dried cranberries for a hint of sweetness.
Flavour Pairings : Lemon, soy sauce, smoked bacon, chestnuts, chilli, and honey.
Spices: ras el hanout (Moroccan spice mix)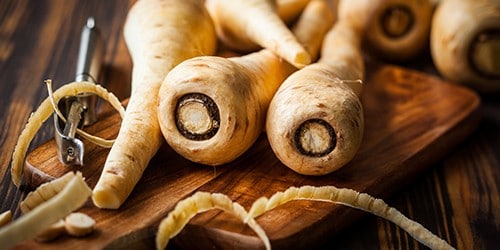 PARSNIP:
At its best: September to February
Parsnips have an earthy, sweet, and slightly bitter taste, similar to a carrot. However, parsnips are best scrubbed, not peeled, like you would a carrot, to keep the best flavours locked in. They are best roasted, boiled, or sauteed. The best food pairings are typically chicken or pork, seasoned well with spices and herbs such as garlic and parsley or thyme, or even honey for extra sweetness.
Chef Suggestions: Parsnip has a toffee-like texture which is commonly roasted to release sweetness and a slight spice.
We recommend: Use the parsnip as a puree underneath scallops, or equally as a base for a faultless autumn/winter soup. For a classic dish, the parsnip can be mashed and paired with venison sausages. Parsnips are perfect for a dessert dish with their fluffy texture and sweet/nutty flavour.
Flavour Profile: "Sweet and Slightly Earthy" 
Flavour Pairings:  Star anise, curried spices, honey, maple syrup, pancetta, watercress, and mustard.

Stay on top of the game with the latest seasonal inspiration, ideas, trends and recipes with our newsletter.