Seasonal in January:
Beetroot, brussel sprouts, cabbage, carrot, cauliflower, cavolo nero, celeriac, celery, chicory, horseradish, Jerusalem artichoke, kale, kohlrabi, leeks, onion, onion red, parsnips, portobello mushroom, potatoes (maincrop), purple sprouting broccoli, rhubarb, salsify, shallots, spinach, sprouts, swede, truffles (black), turnips and wild mushroom.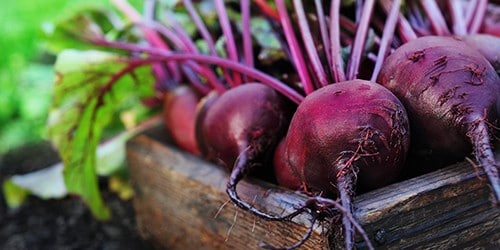 BEETROOT:
At its best: June to October
This crunchy root vegetable is often sweet, rich, and earthy. It complements both sweet and savoury dishes and can be used fresh in a salad, roasted, or preserved through pickling. Once peeled, you can steam them whole, slice, fry, roast, or puree and cook them into a soup. Perhaps surprisingly, the green leaves of the beetroot are actually the most nutritious part of the plant - and are often overlooked and left unused. With a subtle taste that is like kale, beet greens are delicious sautéed in olive oil or balsamic vinegar for a tasty side dish. Developing a soft and sweet taste when cooked, they can even be baked to make crisps.
Chef Suggestions: Beetroot is brilliant when roasted to intensify flavour, improve texture, and increase its natural sweetness.
We recommend: Enjoy your seasonal beetroot in plant-based dishes or pickled to increase umami, kokumi and earthy notes. Equally appreciated when roasted within a salad.
Flavour profile: "Earthy and sweet"
Flavour pairings: Star anise, caper, chocolate, cucumber, cumin, dill, egg, goat's cheese, horseradish, citrus, mackerel, and venison.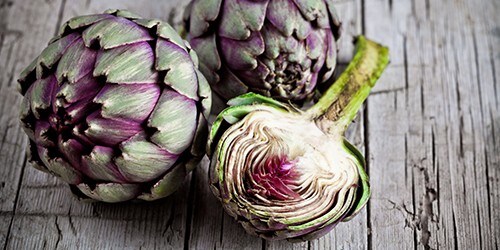 JERUSALEM ARTICHOKE:
At its best: October to March
Jerusalem artichoke is a root vegetable that resembles a ginger root and is a variety of sunflower. Not to be confused with globe artichokes, they perfectly complement red meats, fish, herbs, and spices thanks to their nutty, earthy flavour. They also pair well with citrus, particularly the grated peel. They can be eaten raw and hold up well to roasting, pan-roasting, boiling, and steaming. They have a crisp, clean flavour and have a texture much like water chestnuts.
Chef Suggestions: Tender roasted artichokes are a great way to take your salad to the next level, with bright Mediterranean flavours.
We recommend: Artichokes can be kept in oil for a convenient and quick addition to add flavour to pasta, pizza, and other Mediterranean dishes.
Flavour pairings: Butter, olive oil, olive, garlic, lemon, parsley, parmesan, thyme, Hollandaise, eggs, pasta, pizza and truffle.
Stay on top of the game with the latest seasonal inspiration, ideas, trends and recipes with our newsletter.