Seasonal in September:
Artichokes, aubergine, beef tomatoes, beetroot, broad beans, broccoli, butternut squash, cabbage, carrots, cauliflower, cavolo nero, celeriac, celery, chard, chillies, courgettes, cucumber, fennel, french beans, garlic, heirloom, horseradish, kale, kohlrabi, leeks , lettuce & salad leaves, lollo blondi, mangetout, marrow, turnip, mushrooms, onions red, watercress, pak choi, parsnip, peppers, potatoes (maincrop), pumpkin, radicchio, radishes, rhubarb, rocket, runner beans, shallots, spinach, spring onion, swede, sweetcorn, tenderstem broccoli, tomatoes and wild mushrooms.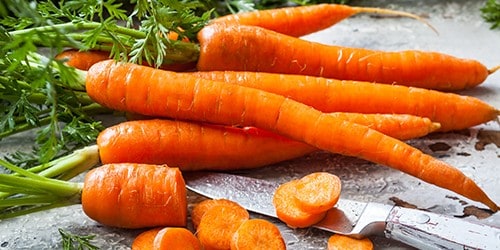 CARROT:
At its best: September to April
The classic orange carrot is sweet, crunchy, and earthy, whereas the purple kind are peppery and extremely sweet. Carrots can be enjoyed raw as a snack, pureed into a soup, roasted, boiled, or fried. The most popular carrot food pairing is the 'mirepoix', a base for a sauce or stew; celery, onions, and carrots work simply beautifully together.
Chef Suggestions: Carrots are an extremely versatile vegetable which is readily available all year round. It is great in slaw, fermented, or pickled. 
We recommend: You could puree, braise, or roast a whole carrot with honey orange and cardamom. Alternatively, the natural sweetness of a carrot creates a great ingredient in cakes and bases.  
Flavour pairings: Anise, cumin, cardamom, orange, ginger, honey, cinnamon, walnut, swede, lamb, duck, and coriander.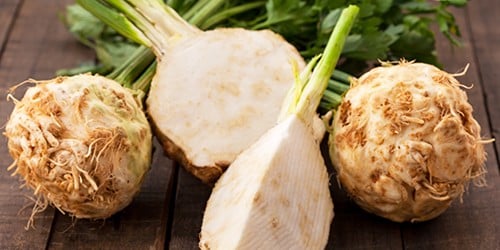 CELERIAC:
At its best: September to October
This root vegetable has a distinct fresh-earthy taste; its sweetness is more noticeable when it's cooked. A popular way of preparing celeriac is to mash them like potatoes, but they can also be pureed into soups, tossed in salads, and eaten raw or cooked. Meats and fish are traditional food pairings, but strong cheeses, warming woody spices, and fresh vegetables also complement celeriac's earthy sweet taste.
Chef Suggestions: Use your raw seasonal celeriac for a remoulade, wonderfully paired with a lobster roll.
We recommend: Celeriac is particularly great in soups, roasted, pureed/mashed or salt-baked. 
Flavour pairings: Roast beef, brisket, shellfish, lemon, mustard, blue cheese, and truffle.

Stay on top of the game with the latest seasonal inspiration, ideas, trends and recipes with our newsletter.