Baked sweet potato, pea and mint puree, carrot cardamon and agave with sumac mayo
Chef Chad Byrne show cases how easy it is  to create tasty plant-based dishes with some simple tweaks. This sweet potato recipe is packed full of fresh flavours, a perfect dish for your restaurant menu.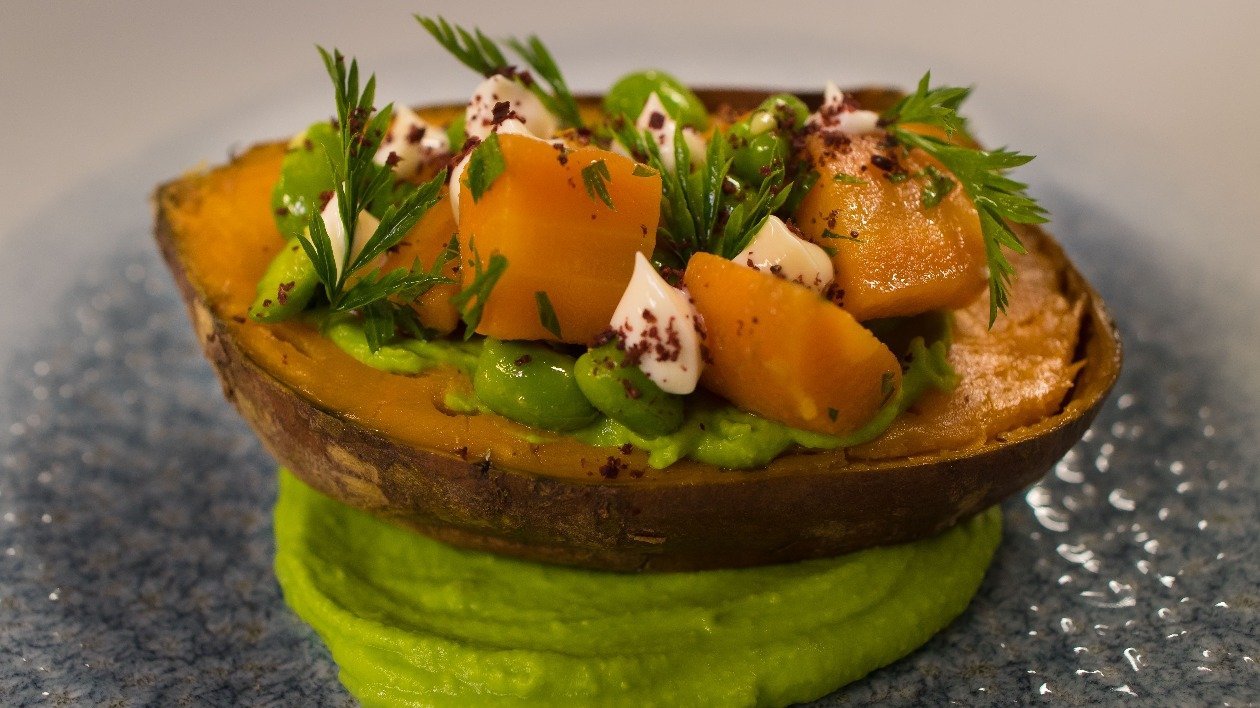 Ingredients
For the Sweet Potato:
Sweet potato - small

1.8 kg
For the pea puree
To cool the vegetables
Coriander seeds- crushed

2.0 g

Cumin seeds- crushed

2.0 g

Carrots- peeled and diced 1 inch size and leaves

600.0 g

Broad beans- blanched and shelled

200.0 g

Seasoning (salt+pepper)

2.0 g
To plate up
Preparation
For the Sweet Potato:

Roast the Sweet potato skin on - prick with a fork and wrap in tinfoil. Bake in preheated oven at 180c for 1 hour until tender. Cut in half lengthways when hot and let the steam evaporate until dry.
Scoup out the centre of the potato and dice into four rustic size pieces.
Brush the sweet potato pieces in oil and bake in the oven at 220c for 5 minutes until crispy on the outside and soft internally.

For the pea puree

Blanch the peas in 300ml of KNORR vegetable bouillon for 2 minutes.
Strain, keeping some of the cooking liquor aside.
Place the peas into the liquidser, blend with mint and 30ml of rapeseed oil.
Adjust consistency with a small amount of cooking liquor. Adjust seasoning.
Pass through fine sieve and keep warm for service.

To cool the vegetables

Blanch the carrots until tender and strain.
Place remaining oil into a sauté pan, add the sweet potato pieces, carrots, shelled broad beans, crushed spices, agave syrup. Saute for 5 minutes or until heated through.

To plate up

Spoon the pea puree onto the centre of the plate.
Place the heated crispy sweet potato skin in the centre and add more of the pea puree into the scouped out potato.
Spoon the sweet potato, carrot and bean mix into the potato.
Pipe the HELLMANN'S Vegan Mayonnaise into the gaps of the sweet potato mix.
Serve sprinkled with sumac and garnished with carrot leaves.