Seasonal in July:
Artichoke, aubergine, beetroot, broad beans, broccoli, cabbage, carrots, celery, cauliflower, cavalo nero, chard, chillies, cucumber, courgettes, fennel, fine beans, french beans, garden peas, garlic, heirloom, jersey royal new potatoes, kale, kohlrabi, leeks, lettuce & salad leaves, mange tout, mushroom portobello, new potatoes, onions, pak choi, peas, peppers, Potatoes (maincrop), radishes, rocket, runner beans, samphire, spinach, spring onion, sugar snap peas, swede, tenderstem broccoli, tomatoes, turnip, watercress and wild nettles.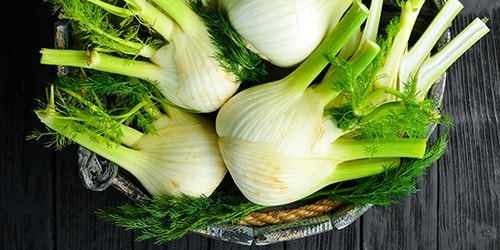 FENNEL:
At its best: July to October
Fennel's flavour is warm and sweet, with a mild anise or liquorice flavour. Fennel works exceptionally well in soups, stews, and salads due to its punchy taste. If you're after a sweeter taste, try roasting the fennel bulb with some olive oil, herbs, and spices with some hearty vegetables. It is also a popular ingredient to be used as a base ingredient in meat and fish broths.
Chef Suggestions: Fennel works perfectly as a stand-alone side dish, garnish, or component. You can enjoy fennel finely shaved and combined as a salad. Pair this with olive oil and lemon for an extra boost in flavour.
We recommend: When preparing fennel, cut the bulbs in half and caramelise them with orange. You can try lightly braising or pickling them for a convenient and quick addition to your dish.
Flavour pairings: Firm white oily fish, shellfish, eggs, dill, orange, lemon, saffron, and pear.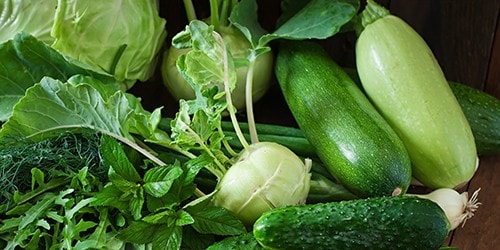 COURGETTE:
At its best: June to October
Courgettes are tender, fresh, and delicate in flavour. They are low in fat and rich in vitamins, minerals, and antioxidants. A true feel-good vegetable! When buying courgettes, look specifically for those which are firm, glossy, and heavy to the touch. They can be served shredded and eaten raw in salads, chargrilled, or roasted with a variety of different flavour profiles. They are popular in pasta, salads, and soups.
Chef Suggestions: Courgettes are great when pan-fried, grilled, or roasted. 
We recommend: As a quick salad, grate the courgette and mix it with feta, ground pepper and olive oil. Alternatively, courgettes can be used in sweet tray bakes, cakes, and muffins for a unique dessert. 
Flavour pairings: Lemon, cumin, garlic, onions, tomato, olives, scallops, feta, ricotta, and mint.

Stay on top of the game with the latest seasonal inspiration, ideas, trends and recipes with our newsletter.