Pan fried trout with almonds, spinach & confit tomatoes
This light fish recipe is a delicious option for your main courses. It also would work with other types of fish. Try replacing the Trout with Seabass, Bream or Salmon and serve it with spinach and cherry tomatoes.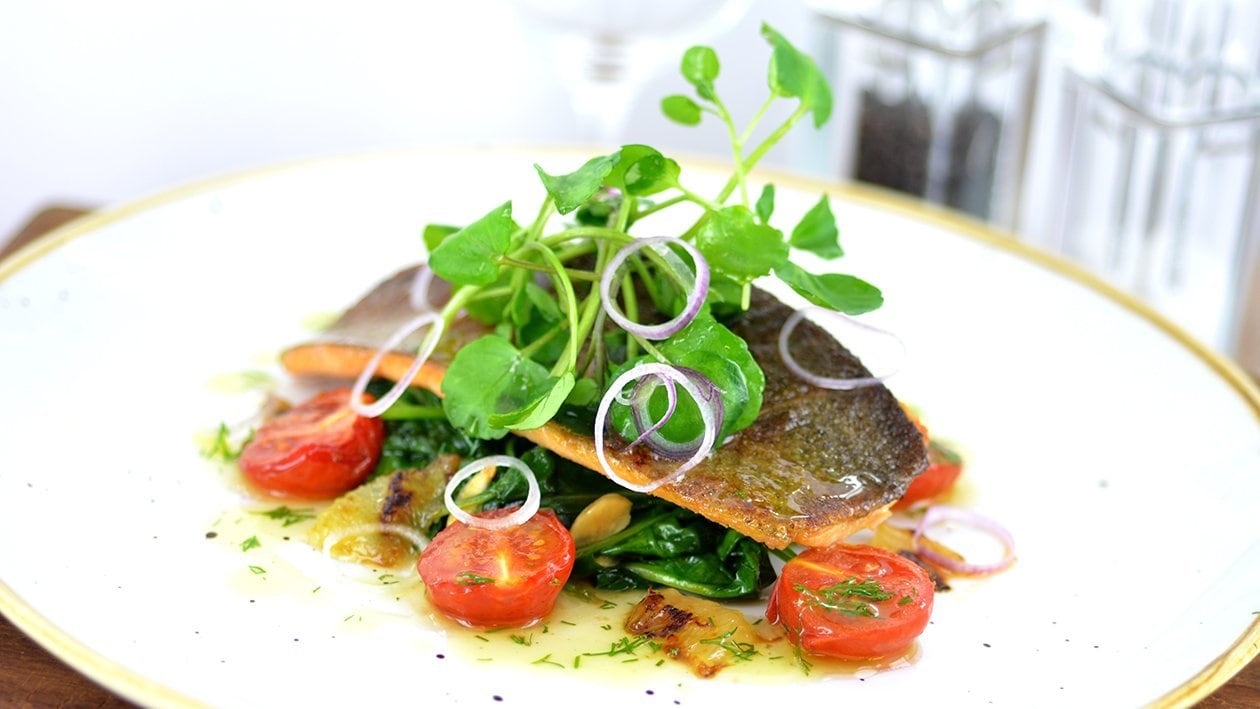 Ingredients
For the confit tomato:
For the trout:
For the spinach:
Ground black pepper

1.0 g
To serve:
Preparation
For the confit tomato:

Preheat the oven to 90ºC.
Cut the tomatoes in half then pour over the oil and scatter over the sliced garlic and thyme leaves.
Spread the mixture out onto a tray and place in the oven for 2 hours, checking to make sure it doesn't dry out.

For the trout:

Season the trout then heat the oil then lay the fillets skin sidedown, fry for 3 min. then turn over and remove the pan from the heat to finish cooking the fish.

For the spinach:

Toast the almonds until lightly golden then wilt the spinach in the butter and garlic then toss in the almonds.
Remove from the heat and drain off any excess water.

To serve:

Place the spinach on to a serving plate and sit the trout on top then place the confit tomatoes around.
Segment the lemon and flash under a hot grill then place on to the plate.
Chop the dill and mix with some of the olive oil from the tomatoes then dress the plate.
Peel and slice the shallots into rings and scatter over the trout.