New Year's Eve is always a chef's challenge. Plan ahead and create a special New Year's Eve dinner or entertain numerousness hungry guests with a diversified New Year's Eve buffet and finger food. No matter what - for a successful preparation the key questions are: how many guests and which location or scope.
Since Christmas is mainly about classic recipes, New Year's Eve asks for creative ideas and chefs regarding food. Serve a themed menu or finger food e.g. "Spices of Orient". Spread good mood and surprise your guests with oriental deliciousness. For example, try our Fattoush salad.
Quick appetizers
Simple or a bit more time-consuming: there are no limits when it comes to finger food. How about Teriyaki vegetable skewers combined with a Spiced Apricot Dip? You can also try some homemade popcorn to surprise your guests, roasted nuts or puff pastry with bacon and cheese. Create a New Year's Eve buffet menu your guests will talk about. To get more inspiration, also discover our tips and information on Gourmet fast food.
Cheers!
One of the most important ingredients on New Year's Eve is sparkling wine or Champaign. So pick up on this and give your New Year's Eve recipes a festive kick. Serve the fish course with Champaign sauce, refine your risotto with sparkling wine or create a sweet highlight at the end of your dinner menu with Prosecco-Zaibaione. Your guests will love it! (But keep in mind to let your guests know you are using alcohol in your dishes. Read more about allergens and additives here).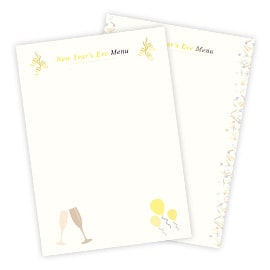 New Year's Eve menu cards
Download our set of menu cards to individualise your New Year's Eve menu. We provide you with a .zip file including PDF and word documents for you to choose and edit. Happy New Year!
Download now