People still enjoy a good meal, but also want the healthy benefits. Asian-fused Californian cuisine, for example, is popular because it offers light dishes with lots of vegetables that don't give up on taste. Read on to find out how to make a healthy dish that still looks and tastes delish!

Healthy trend ingredients
Many foods have beneficial qualities and have been used as a medicine since mankind. They are the super foods of today, if you like. We have listed the hottest healthy ingredients of the moment. Read on to find out.
1. Turmeric
Yellow root turmeric is a spice used in Asian and Middle-Eastern cuisine. It can help to lower the amount of sodium in dishes and has a high density of micronutrients. It is popular in juices and increasingly shows up on restaurant menus, in dressings, sweet or savoury curds, baked dishes, sprinkled over popcorn or used in a rub for roasted fish or vegetables.  
2. Avocado
This creamy green fruit contains the good fat of the mono-unsaturated type as well as vitamin E, potassium and fibre. There is a real avocado hype going on, with the Internet swarming with savoury and sweet recipes. From avocado and lime cheesecake and the perfect 'avo on toast', to cold but lush avocado soup with crab.  
3. Pulses
2016 was declared 'International Year of the Pulse' by the United Nations. Pulses (chickpeas, beans, lentils, dry peas) are high in fibers and protein and don't have a big ecological footprint. Indispensable in all kinds of hummus and perfect with crustaceans and shellfish. The flour is used as a higher-fiber, higher-protein alternative to traditional breads and baked goods.
4. Grains
Whole-grains (and other complex carbohydrates) have conquered restaurant menus. Grains like kamut, bulgur, farro, buckwheat, quinoa, millet, amaranth, sorghum and teff are all higher in fiber than refined grains. They can substitute potatoes or pasta, they can be used for risotto or pilaf or serve as a lunch salad.
5. Nuts
There are many different kinds of nuts all with their own nutrition credentials. Almonds, for example, are calcium-rich and Brazil nuts are a good source of selenium, which contributes to the normal function of the immune system. Nuts in general are a source of vitamins and minerals and contain a lot of unsaturated fats. Last but not least, nuts are very versatile: they can be roasted for a complex flavour, milled and used in baking and blended raw they make the creamiest dressings.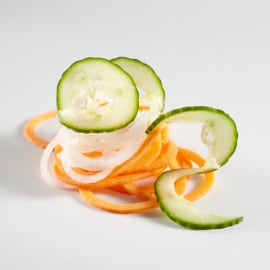 Spiral your vegetables!
A fun way to incorporate more plant-foods into your menu is using a spiralizer to make noodles of your vegetables. They look elegant and have a nice and crunchy mouthfeel.

Spiral foods such as sweet potato, daikon, courgette, carrots, or beets with the help of a spiralizer, creating thicker or thinner noodles depending on the knifes of choice.