In autumn, lots of great fruit and vegetables are in season which can help you create rich and tasty dishes with a lot of nutritional benefits.
Provide your guests with additional information along with your autumn menu and discover our  inspirational content for a cozy autumn season! We have lots of recipe ideas for you as well as free menu cards to download.

Finally: Pumpkin Season!
Pumpkins are in season from October until December and offer great versatility for sweet and savoury dishes. When selecting pumpkins or squash for your menu, make sure they are firm and heavy for their size. This is an indicator of high quality and ensures the flesh is easy to process. Store them in a dark, cool place and refrigerate them after they are cut open.
There are many ways of preparing squash or pumpkins for your menu. You can roast, boil or fry them for delicious stews and soups or serve them roasted or mashed as a side.
Good to know: A pumpkin is a type of squash! The main difference is that pumpkin seeds are edible as opposed to squash seeds. For most pumpkin dishes, any other squash can be used as a substitute.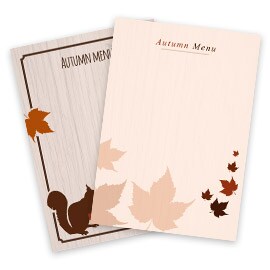 Autumn menu cards
Download our set of menu cards to individualise your autumn menu. We provide you with a .zip file including PDF and word documents for you to choose and edit. Enjoy!
Download now
Go Nuts with Nuts
Nuts and seeds are a great source of nutrients and can be used in multiple ways to refine your dishes. Most nuts and seeds are a source of fibre, essential fats, minerals and vitamins.  For example:
Walnuts are a rich source of essential fatty acids as well as also containing Vitamin E and minerals such as zinc and magnesium. Caramelised walnuts, crushed as topping are a delicious extra over your salads & desserts!

Pumpkin seeds are a source of protein as well as being a great source of zinc, potassium and iron. 
Chestnuts have a sweet and rich flavour, and are relatively low in calories and fat – less than 200 kcal per 100g. Also: they are gluten free!
Want to stay up to date with our special occasions content all year round? Sign up to our newsletter and make sure you don't miss any seasonal updates!