Beef and vegetable casserole with cobbler top
A traditional classic lunch time offer, with the added benefit of being gluten free. Try adding some horseradish to the cobbler to accompany the Beef.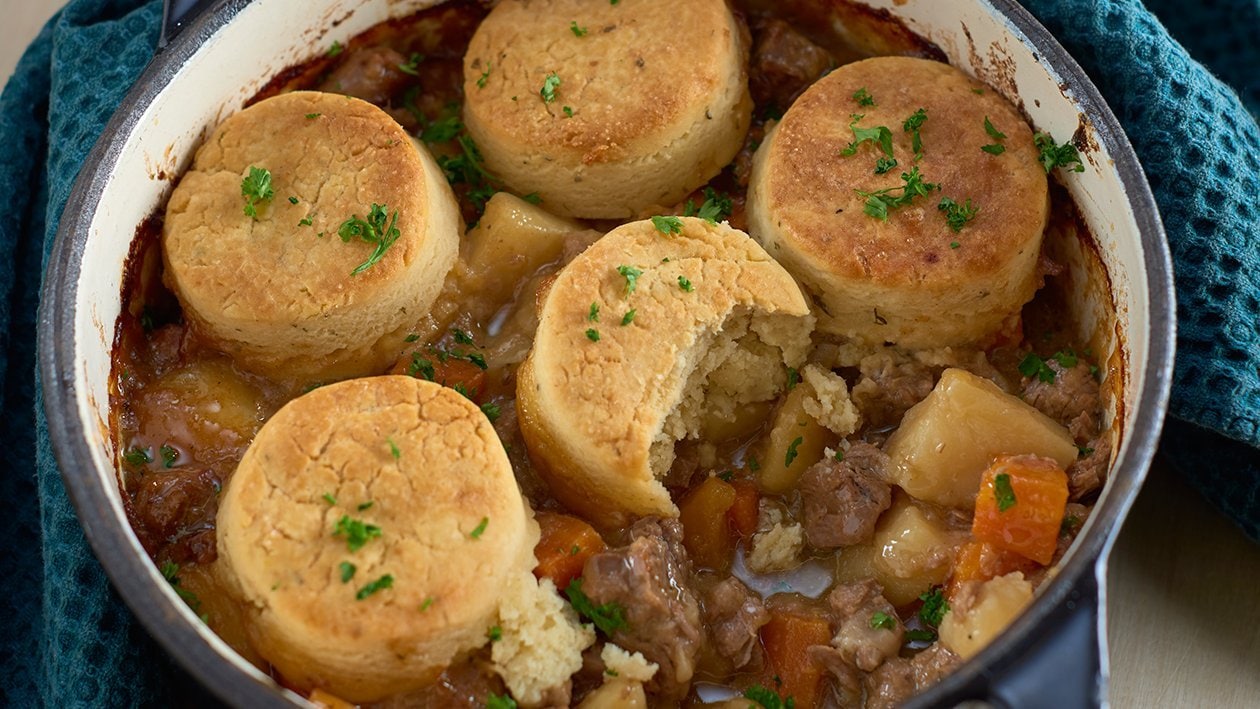 Ingredients
Beef & vegetable casserole:
Carrot, peeled & diced

200.0 g

Potato, prepared & diced

200.0 g

Parsnips prepared & diced

200.0 g

Swede prepared & diced

200.0 g
Parmesan & herb cobbler:
Gluten free flour

450.0 g

Gluten free baking powder

3.0 g

Flora Buttery 2kg

100.0 g

Low Fat plain yogurt

300.0 g
For the flour mix:
Preparation
Beef & vegetable casserole:

Preheat the oven to 150c
Make the KNORR Beef Bouillon by adding the paste and the KNORR gravy granules to boiling water.
Cut the beef chuck into 15mm cubes.
In a suitable casserole pan colour the beef and onions, add the KNORR Professional Garlic Puree and cook for a further 2 minutes. remove from the pan and set aside.
Place all vegetables into the pan and sweat for a further 10 minutes stirring occasionally.
Return the meat to the pan and combine all ingredients together.
Deglaze the pan with the bouillon and bring to a gentle simmer.
Cover the pan with a lid and place into a preheated oven at 150c and cook for approximately 1.5 hours or until the meat is tender.
Remove the Casserole from the oven and remove the lid.
Transfer the casserole to a large gastronom tray and keep warm.

Parmesan & herb cobbler:

Sift the gluten free flour and gluten free baking powder into a large bowl. Add theFLORA Butteryto the flour mix and rub together until it resembles fine bread crumbs.
Mix in the KNORR Professional Mixed Herbs Puree, parmesan and low fat yoghurt. Mix until a dough is formed.
On a floured surface roll out the dough and cut into discs approximately 5cm wide and 1cm thick.
Place the discs on top of the casserole, and brush with a beaten egg.
Increase the heat in the oven to 180c. Return the casserole to the oven and cook for a further 25-30 min till the cobbler is golden brown.

For the flour mix:

Mix all the flours together thoroughly or place into a food precessor and pulse until mixed.
Store in an air tight container.

Disclaimer:It is the operator's responsibility to ensure that the end dish is gluten-free in accordance with the regulatory requirements and check all ingredients to ensure they are gluten-free. For further guidance please download our Gluten-Free Kitchen Guide.