When it starts to get colder outside, it's always good to have some warming soups on your menu.
Especially in the autumn, there is nothing better than a delicate bowl of soup. Discover our international selection of spicy, tangy and aromatic soups that your diners will love. And don't miss out to win a great price at our autumn quiz.

Popular Soups, Stews and Broths from Around the World
This fall, instead of just pointing out traditional English autumn recipes, we are taking a look at how soups, stews and broths are enjoyed around the world. Take these as inspiration for your menu today.

1. Kimchi jjigae
Country of origin: Korea
As its name suggests, Kimchi jjigae is made using kimchi and includes a huge array of other ingredients, including seafood, scallions, pork and onions. It's simple to make and great for diners who want just a little spice and touch of Korean flavour in their soup.
2. Miso ramen
Country of origin: Japan
This one's an ideal choice for vegetarian customers. You can enhance the flavour of this soup with loads of greens and mushrooms. This is an excellent choice for diners looking for a filling, one-bowl meal.
3. Zuppa di verdure all'agliata
Country of origin: Italy
Known as the Umbrian vegetable soup it includes a wide range of vegetables cooked lightly before being added to the soup, which helps bring out their natural flavour. The variety of ingredients ensures that every diner (even non-vegetarians) will fall in love with it.
4. French onion soup
Country of origin: France
This one is ideal for restaurants as it can be made quickly and is very versatile – the recipe works well with vegetable and beef stocks, so it can be catered to the taste of all customers. You can serve cheese and bread on the side with it too. Remember to be generous with the garlic and onions as well as the wine when making it!
5. Pozole
Country of origin: Mexico
Let's head to the other side of the globe and have a look at this aromatic soup from Mexico. This one does take a bit of time to prepare, but is filling and goes perfectly well with salads.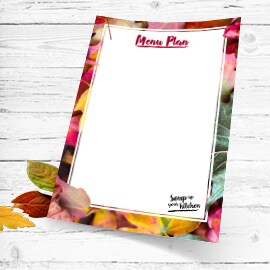 Autumn menu cards
Download our autumn menu cards and print them out for a individualized autumn menu.