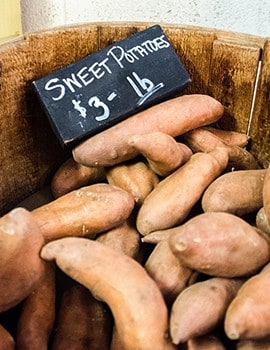 Sweet Potatoes
Sweet potatoes were first cultivated in Britain in 2015. They have a fibrous texture and sweet-spicy flavour. Sweet potatoes can be cooked, baked, mashed or fried – an ideal produce for savoury dishes.
Our recipe tip: Grilled Piri Piri chicken with sweet potato, chick pea and baby spinach
Did you know?
Sweet potatoes have a lower calorie count than regular white potatoes. They are also nutrient-rich.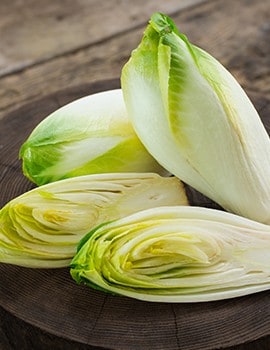 Chicory
Chicory has a white bulb with tightly packed cones. Chicory leaves may be tipped with yellow-green or red. They can excellently be eaten raw or stir-fried or be served as a vegetable side dish. Whole chicory-heads can be backed or grilled as well.
Our recipe tip: Roast lamb loin with peas, chicory & bacon
Did you know?
Once picked and exposed to light, chicory leaves start to become bitter. Therefore they should be wrapped in paper to protect against the light and eaten soon.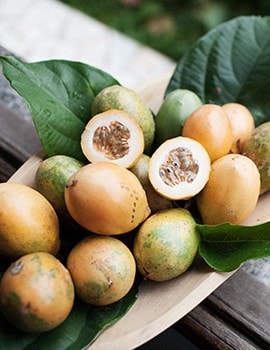 Passion fruit
Passion fruits are native to South America and there are a number of varieties, from large yellow to smaller purple passion fruits. The vivid and juicy flavour serves as a perfect addition to both sweet and savoury dishes.
Our recipe tip: Passion Fruit and white chocolate Posset
Top Tip:
Boil down the diluted juice with a little sugar, which intensifies the flavour. This syrup makes a perfect salad dressing.