Make most of this spring season
Spring is a busy and potentially hugely profitable time of year, with some of the most important dates of the year falling in a short space of time. We will provide you with hints and tips to help you maximise the spend from customers as well as recipe inspiration to make the most of the seasonal produce.

Dates to keep in mind
Mother's Day / Sunday 26th March
St. Patrick's Day / Friday 17th March

Good Friday / Friday 14th April
Easter Sunday / Sunday 16th April
Easter Monday / Monday 17th April
Early May Bank Holiday / Monday 1st May
Extra tips to make most of this spring
Advertise beyond passing trade - Use social media, leaflet drops, posters and local press ads. Put an A-Board outside your business to entice passing trade. Don't forget to have some POS inside for your regular customers
Consider pricing - Set menus offer great value as well as aid efficiency in the kitchen; but make sure you're able to maximise trade-up opportunities.
Customer reviews - Excellent customer reviews on social media is a great way to promote your business, and it's free.
Extra staff - Excellent customer service comes from attentive staff.
Saints Days - Make the most of saint days by hosting a themed day with national favourites on the menu.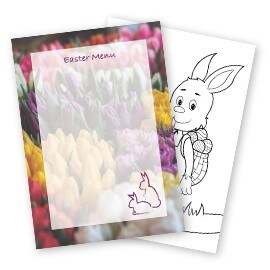 Spring & Easter pack
Download our set of menu cards to individualise your Spring menu as well as colouring pictures for the kids for Easter. We provide you with a .zip file including PDF and word documents for you to choose and edit. Enjoy!
Download now
Make the most of the first long weekend of the year with Easter themed menus, activities for all the family to enjoy or take the opportunity for a special beer and cider day.
For your Easter menu, serve traditional Easter dishes over the weekend, including fish on Friday and lamb on Sunday. You can also serve a Spring roast – customers love roasts, so why not offer in-season meats and accompaniments to your Sunday roast to help you stand out from the competition.  
Provide a Children's menu as well including some fun activities such as colouring pictures. Also an option: Try kids eat for free – this is appealing to families, making a day out more affordable.
How about a special Beer & Cider day? Use local breweries and serve quick and easy snacks.