Shortlisted Venues 2018 in no particular order are:
Munster Hotels
Mulcahy's, Clonmel, Co. Tipperary

Rochestown Park Hotel, Douglas, Co. Cork
Castle Hotel Macroom, Co. Cork
Connacht Hotels
Galway Bay Hotel, Upper Salthill, Co. Galway
Murphy's Hotel, Tubbercurry, Co. Sligo
Hodson Bay Hotel, Athlone, Co. Roscommon
Leinster Hotels
The Newgrange Hotel, Navan, Co. Meath
Riverside Park Hotel, Enniscorthy, Co. Wexford
Whitford House Hotel, Co. Wexford
Ulster Hotels
Bailie Hotel, Bailieborough, Co. Cavan
Killyhevlin Hotel, Enniskillen, Co. Fermanagh
Benedict's of Belfast, Co. Antrim
Munster Pubs
Kirby's Brogue Inn, Tralee, Co. Kerry
Bobby Byrne's, Limerick
The Hi-Way Bar, Dooradoyle, Co. Limerick
Connacht Pubs
The Trappers Inn, Castlegar, Co. Galway
Mulroy's, Castlebar, Co. Mayo
Leinster Pubs
Silken Thomas, Kildare Town, Co. Kildare
The 51 Bar, Haddington Road, Dublin 4
Beaumont House, Beaumont, Dublin 9
Ulster Pubs
The Fiddlers, Carrickmacross, Co. Monaghan
The Market Yard, Limavaddy, Co. Derry


The overall pub winner & overall hotel winner will receive:

200,000 UFS Chef Rewards points
Wüsthof 7 Piece Silverpoint Roll Set 
A plaque and certificate to promote the win front of house
Knorr Great Carvery branded chef jacket
PLUS: every pub or hotel that enters will be included in a draw to win an iPad! 


Visit ufs.com/carvery to complete the online entry form from 1st May

If your carvery makes the shortlist, a mystery diner will visit your establishment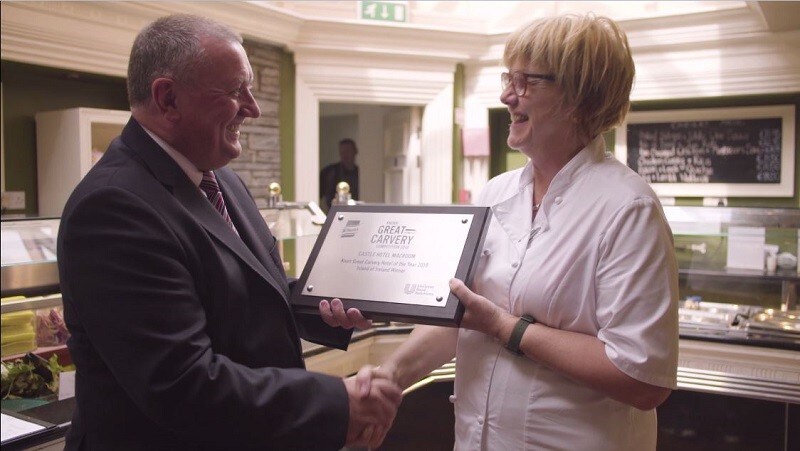 "Our covers have increased by 25% since winning the competition"
Kevin Watson, Head Chef, Killyhevlin Lakeside Hotel  -  Knorr Great Carvery Hotel of the Year 2017
"We've seen an increase in sales since winning the competition and the congratulations from our customers has really boosted morale and continues to make us proud of the great job we've done"
Niall Stears, Head Chef, Beaumont House - Knorr Great Carvery Pub of the Year 2017




Abridged T&C's:
The Competition is open to hotels and pubs who serve carveries a minimum of five days a week who are a resident in the Island of Ireland and their employees aged 18 or over. The opening date is 08:00 GMT 01/05/18 and closing date is 00:00 GMT 30/06/18. Employer permission required for employees to enter. To enter, complete form at www.ufs.com/carvery ("Website"). One entry per establishment. Entries will be divided into a pub and hotel category.  Competition consists of multiple stages, including mystery dining. Prize: One overall winner in both the Pub and Hotel category will win 200,000 UFS Chef Reward Points, a Wüsthof 7 Piece Silverpoint Rolls Set, a plaque, a framed certificate and a Chef Jacket. Provincial Winners in each category will receive a framed certificate, a Chef Jacket and a Wüsthof 6 Piece Silverpoint Rolls Set. All entries are automatically entered into a prize draw to win one Apple iPad. For more information and full T&Cs see on www.ufs.com/carveryterms.