Best in the Business: Pubs & Restaurants
Discover recipes, support & advice from Knorr Professional Creative Director, Tom Kerridge and Ambassador, Gareth Smith.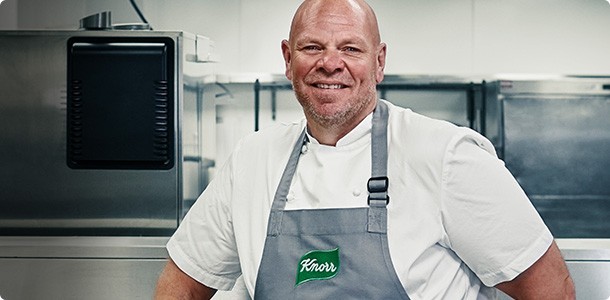 Tom Kerridge is a chef at the top of his game. Having made history with his pub The Hand & Flowers in Marlow – the first ever gastropub to receive two Michelin stars – Chef Tom is a pioneer of the pub and restaurant chef community. 
Best known for his refined British classics and modern twists on flavour, Chef Tom is thrilled to work in collaboration with Knorr Professional to bring you his vision of how you can elevate your menu and deliver the depth of flavour Knorr Professional Bouillon is known for. 

Gareth 'Gaz' Smith is a successful chef who has firmly established himself as a culinary leader within Dublin's food scene. With a passion for bold flavours and truly comforting food, Gaz is thrilled to be partnering with Knorr Professional to share his take on hero pub dishes and how's best to achieve an unmatched depth of flavour.  With seasonality at the heart, Gaz has crafted a range of recipes accompanied by easy to follow tutorials to help elevate and inspire pub and restaurant menus.