Slow braised Ox cheek & stout casserole with horseradish & parlsey dumplings by Alex Morte
Alex Morte is the Head Chef of Chelsea Court Place, London and one of our Kitchen Heroes. Try his recipe in your Care home as it combines different flavour layers for your residents to enjoy.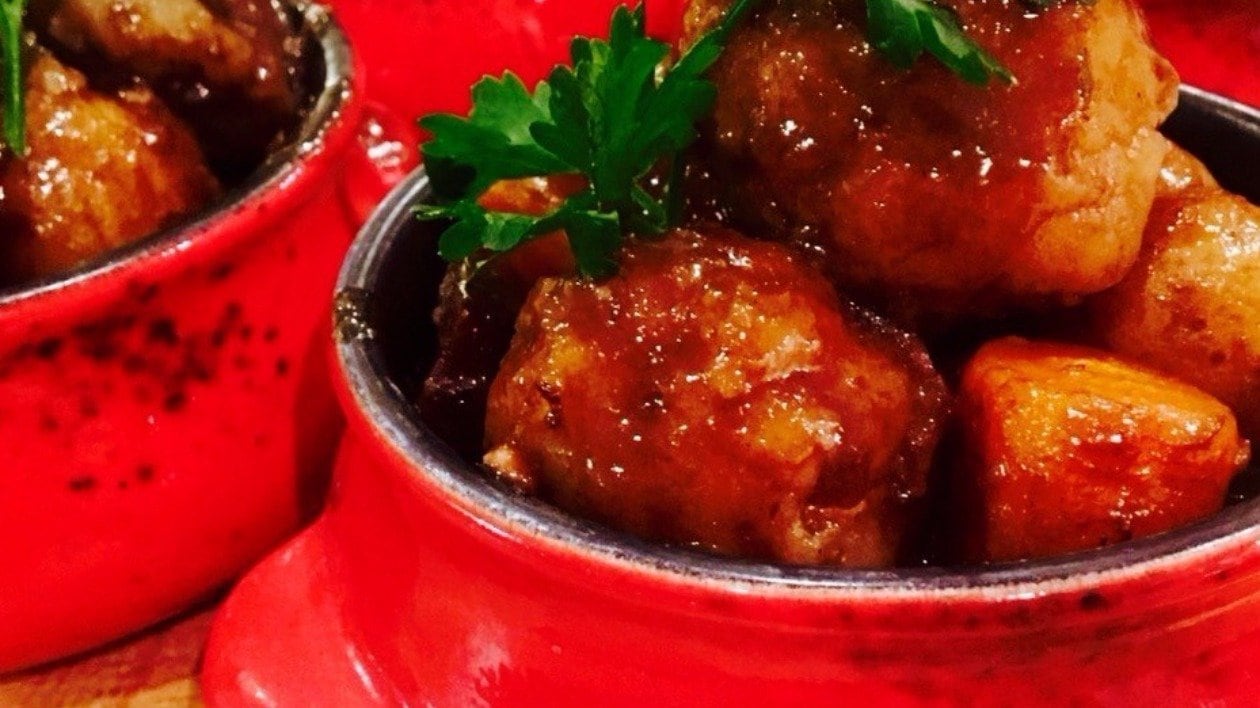 Ingredients
For the braised ox cheek:
Carrots - Chantenay

500.0 g
For the horseradish dumplings:
Light vegetable suet

100.0 g

Self raising flour

200.0 g
Preparation
For the braised ox cheek:

Preheat oven to 160c.
Peel the shallots keeping them whole.
Wash the carrots.
Cut the celery into 1cm pieces.
Trim ox cheeks to get rid of any unwanted sinew and then cut each cheek into quarters.
Dust cheeks in cornflour and season them with salt & pepper.
Pan fry the Ox cheeks in a little sunflower oil until coloured, remove from pan and leave to one side.
Lightly sauté off your carrots, new potatoes, celery, shallots and KNORR Professional Garlic Puree garlic until slightly coloured.
Place the water in a pan and bring up to the boil, then whisk in the KNORR Beef Jelly Bouillon and set to one side.
Add your stout to the vegetables & deglaze the pan, then add the beef bouillon, bay leaves, thyme and ox cheeks.
Bring to the boil, then cover tightly with foil and place in the oven for 4-6 hours or until the ox cheeks are soft and just falling apart when you touch them.
When cooked strain the sauce (do this very carefully as the cheeks and vegetables will be soft and you want them to stay whole).
Reduce the sauce by a third skimming off any fat, until it has slightly thickened.
Add the sauce back on to the ox cheeks and vegetables, then make dumplings.

For the horseradish dumplings:

Add all ingredients together in a large bowl, adding small amounts of water until a firm and mouldable dough is formed.
Shape in 20 even balls, and place on the top of your casserole and cover.
Place back into the oven for a further 20-30 minutes, until the dumplings have steamed & cooked all the way through.

To serve:

Get your 10 serving bowls and start plating up, start with 2 pieces of ox cheek, then a few potatoes, carrots and shallots.
Spoon over large amounts of the sauce, then top with 2 dumplings for each portions and garnish with some fresh parsley.