Read More
Sizzling Steak Sandwich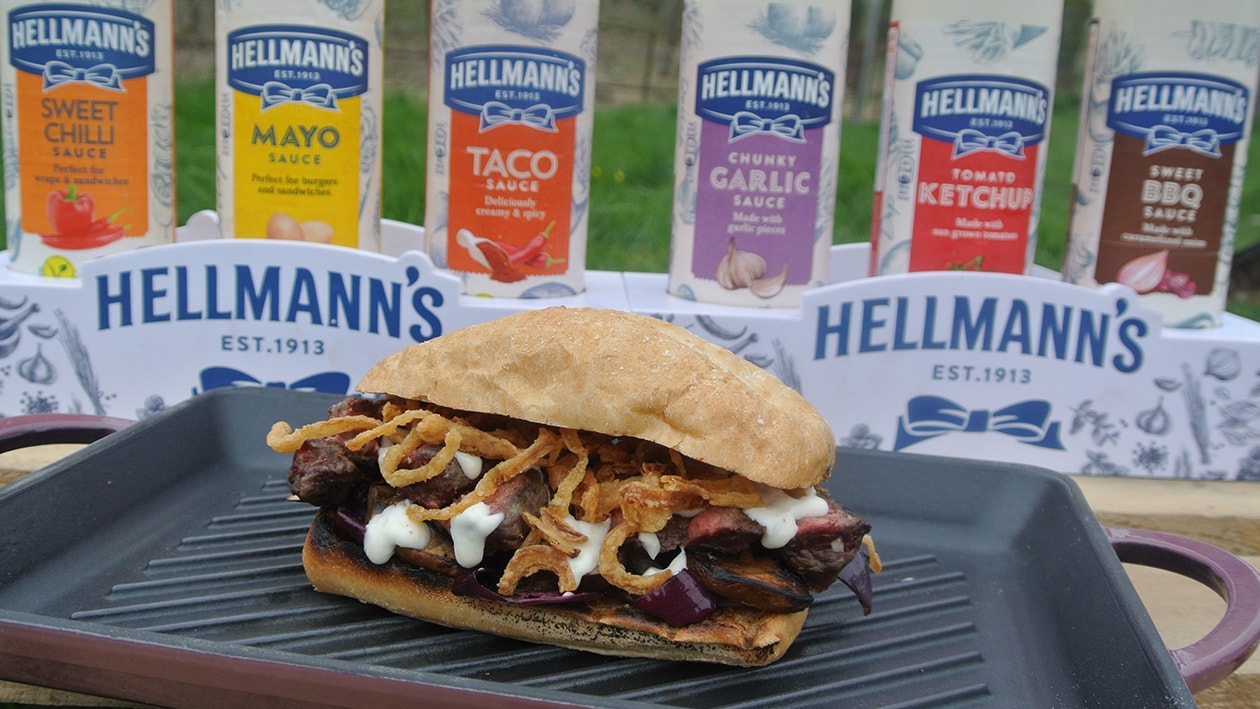 Perfect for outdoor grilling,  Sizzling 6oz sirloin steak served on a warm crisp ciabatta and smothered in Hellmann's Chunky Garlic sauce 
...
Ingredients
Sizzling Steak Sandwich
Step 1
Sirloin steak trimmed of fat
/oz
6.0 oz
0%
Chestnut mushrooms
/g
500.0 g
0%
Rapeseed oil
/ml
80.0 ml
0%
Cracked Black Pepper
/g
2.0 g
0%
Step 3
Ciabatta rolls
/pc
10.0 pc
0%
Hellmann's Chunky Garlic Sauce 850ml
/mg
200.0 mg
0%

Contains sulphur dioxide and sulphites and their derivatives
Contains eggs and their derivatives
Hellmann's Real Mayonnaise 10L
/ml
100.0 ml
0%
Step 1
Sirloin steak trimmed of fat

6.0 oz

Chestnut mushrooms

500.0 g

Cracked Black Pepper

2.0 g
Step 3
---
Perfect for outdoor grilling,  Sizzling 6oz sirloin steak served on a warm crisp ciabatta and smothered in Hellmann's Chunky Garlic sauce 
...
Step 1

Remove the steak from the fridge and let it come to room temperature.
Peel and slice the red onions.
Slice the Chestnut mushrooms.
Put the 1/2 of the oil into a large non-stick frying pan on a medium heat. 
Once heated place the onions, mushrooms and thyme into the pan in a single layer and cook for 5 minutes.
Season with salt and pepper.
Remove from the heat and keep warm for service.

Step 2

Rub the steak with oil and season. 
Preheat a large frying pan or char grill, baste the steaks with butter and thyme while cooking to the desired liking, remove and allow to rest.
Toast the Ciabatta rolls.




Step 3

To assemble;

Spread the Mayonnaise on the base of the toasted ciabatta. 
Slice the steak and layer the sliced steak pieces, red onions and mushrooms. 
 Drizzle with lashings of HELLMANN'S Chunky Garlic sauce and top with crispy onions.
Replace the top of the roll and serve.