Brioche and braised ox cheek french dip
Try out this special sandwich dish inspired by a popular American recipe called ʺFrench Dipʺ! Fill the toasted brioche with the red wine braised ox cheek and serve it for lunch time with some sweet potato fries.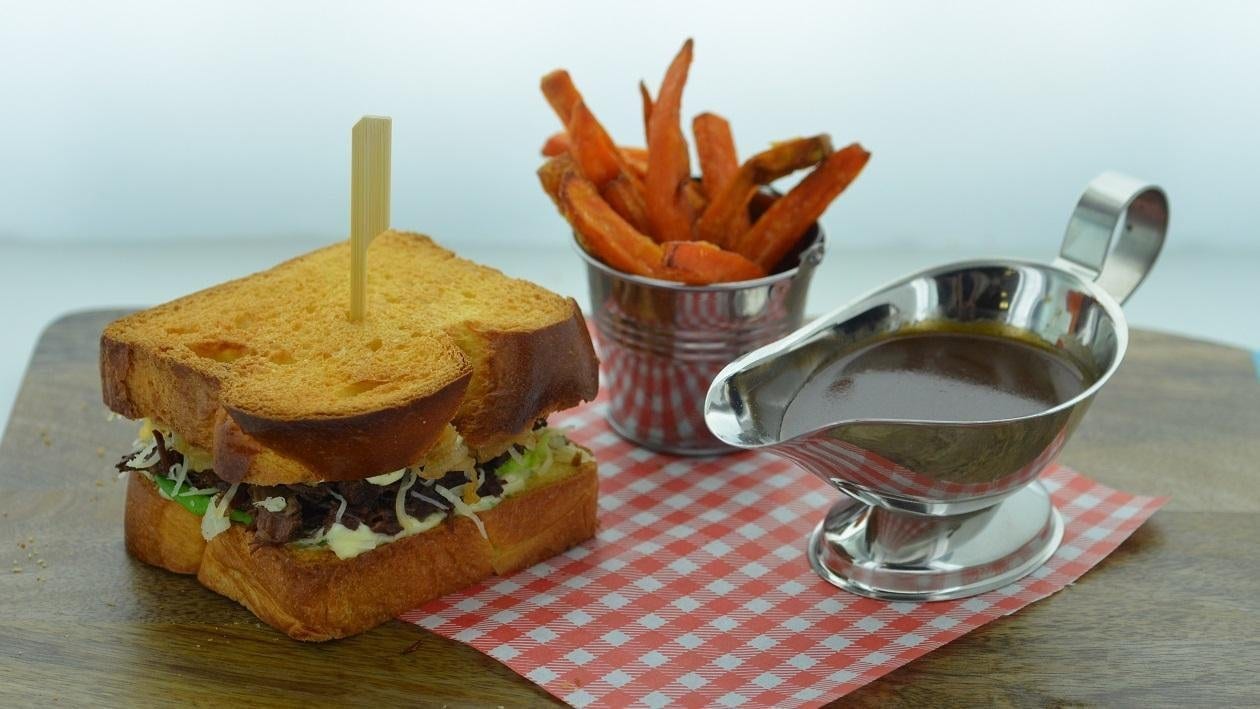 Ingredients
For the Braised Ox Cheek:
For the Lyonnaise Onions:
For the Truffle Mayonnaise:
To Assemble:
Little gem lettuce

80.0 g
Preparation
For the Braised Ox Cheek:

Preheat the oven to 150°C.
In a suitable frying pan heat the rapeseed oil and brown the ox cheek for 3-4 min. each side (this can be done in batches). Remove the ox cheeks and set aside and remove the oil from the pan.
Deglaze the pan with red wine and reduce by half.
In a suitable pan bring the water to the boil and whisk in the KNORR Professional Garlic Puree and KNORR Demi Glace. Cook for 3-4 min. until the sauce starts to thicken.
Add the reduced wine, thyme sprigs and sealed ox cheeks. Cover with a sheet of grease proof paper and a lid or foil to seal. Place in the oven for 3 ½ to 4 hours until the ox cheek is tender and falling apart.
Remove the ox cheek from the sauce and using two forks shred. Cover and set aside.
Reduce the braising liquid till thick and glossy, set aside and keep warm.

For the Lyonnaise Onions:

Peel and slice the onions very thinly.
Heat the duck fat in a suitable pan and add the onions.
Cook gently for 15-20 min. until they are soft and caramelised.
Add the KNORR Professional Mixed Peppercorn Puree and cook for a further 5 min.

For the Truffle Mayonnaise:

Mix the mayonnaise, truffle oil and chopped tarragon.

To Assemble:

Mix half of the braising sauce to the shredded ox cheek, season with salt and heat thorougly.
Cut the Brioche into 20 slices and toast.
To arrange: spread the truffle mayo on both sides of the toasted brioche.
Place a leaf of baby gem on the base of the sandwich then add the pulled ox cheek, grated Comte cheese, Lyonnaise onions and top with the other slice of toasted brioche.
Serve with the remaining gravy in a side bowl or dipping pot with optional sweet potato fries.