MEET THE WINNERS: INTRODUCING GRIFFIN'S BAR, BEST IN THE PUB CATEGORY OF KNORR® PROFESSIONAL'S IRELAND'S GREAT ROAST DINNER COMPETITION

1. Tell us about your pub, What's your story and what makes it different?
Griffin's is Clifden's longest family-owned pub. We are located in the heart of the town on Main Street in Clifden town centre. We're a traditional old-style bar and proud of it; playing great Irish music all through the week, we believe we're a real local gem!
2. What do people love about your menu? How often is your menu updated? Is there a time of the year when your dishes are most popular?
People love that our food is all homemade. Every dish on the menu is made in-house so it really shows off the talents of our kitchen staff. Our menu is updated seasonally as it would be subject to the availability of local ingredients.
We have a busy local trade during the winter months but during the summer our outdoor area is really popular with tourists who love to experience everything that makes  the West of Ireland great.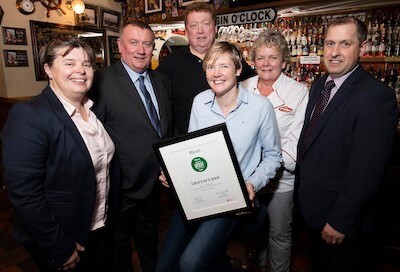 3. What makes your roast a winner? What's your favourite ingredient and what would you never serve with your roast?
What makes our roast a winner is we like to keep things simple. We use a lot of local products and ingredients - it's important to us to be able to stand over the quality of what goes into our cooking. 
It's always nice for our customers to feel like they are having a home-cooked meal. We are different because we don't serve our roast all day long, rather just for a certain length of time of the day and always to the best of our ability. Gravy is that special extra that we believe brings our roast to life - we would never simply serve instant gravy, it has to be made from the juices of the meat for that extra flavour.

4. Does your roast make your pub particularly busy on Sundays? How do you manage that with your staff?

Sunday is a busy day for us regardless. Clifden is a destination for people who want a weekend away so we've a great Saturday nightlife. This means we always have people in for the cure of a good meal on Sunday. We also tend to get big business of people coming into the town for their shopping.
We're really proud of the team at Griffin's, many of whom have been with us for years and are local to the area. There's a great atmosphere amongst the team who all work well together and help out when needed.
5. How do you get customers through the door?
We have a big local trade that comes into us so we try to keep everything nice and fresh for them. Nice big portions just like you'd get at home is good for return customers. Our value for money is one of our biggest assets.
Mostly, however, it would be word of mouth. We have been here now since 1978. Of course, competitions such as Ireland's Great Roast is a prime opportunity to keep up with the ever-changing times.