Sesame crusted aubergine, cauliflower puree, sautéed pak choi and kumquat
Chef Chad Byrne is at the forefront of plant-based cooking in Ireland, he is passionate about learning and sharing. Try his recipe of pan seared sesame crusted fingerling aubergine with cauliflower florets and beetroot nestled in a velvety cauliflower puree.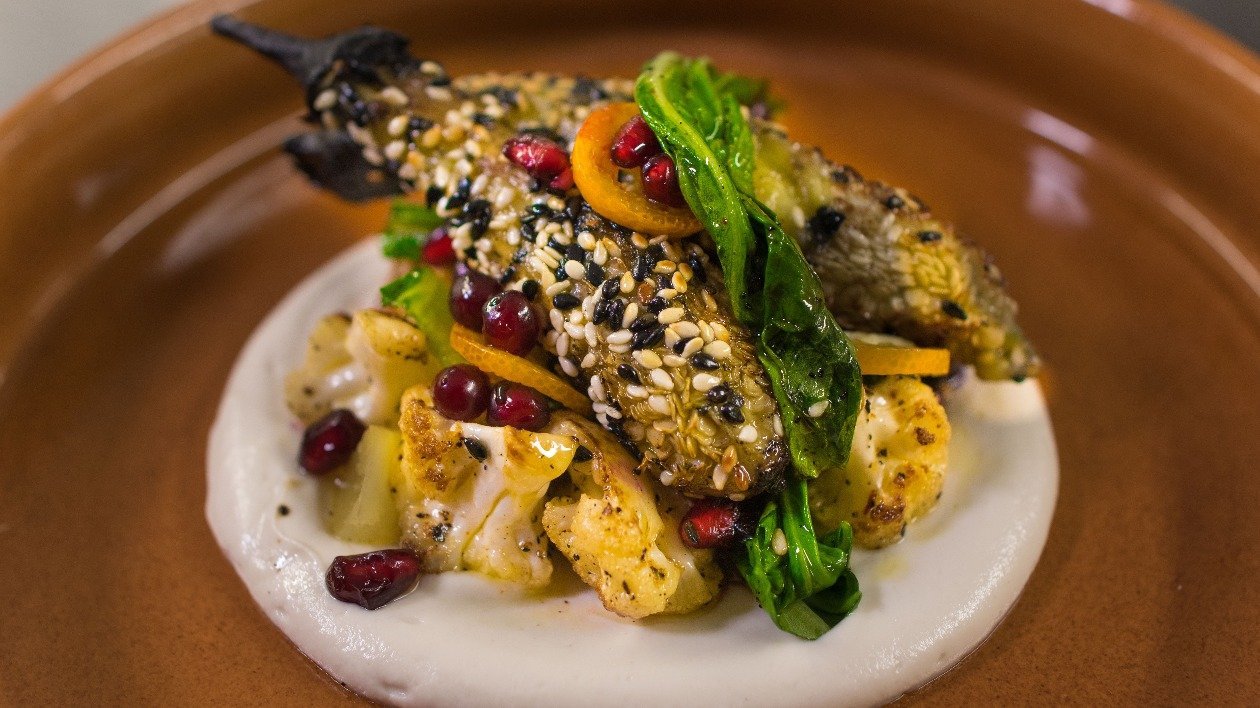 Ingredients
For the aubergine
Aubergine- fingerling

1.5 kg

Ground black pepper

5.0 g
For the cauliflower
To serve
Seasoning (salt+pepper)

1.0 g
To plate up
Pomegranate Seeds

100.0 g
Preparation
For the aubergine

Char the aubergine over a naked flame until the aubergine is totally soft.
Scrap off the charred skin and roll in sesame seeds and pepper.
Set aside in the fridge.

For the cauliflower

Break down the cauliflower into small florets, chop the stalk into small chunks.
Blanch the cauliflower florets and stalk in salted water until tender.
Drain well and transfer ½ of the florets, stalks and cashew nuts into a liquidiser.
Add the HELLMANN'S Vegan Mayo.
Blitz until smooth and pass through a fine sieve.
Keep the puree warm for service

To serve

Sauté the cauliflower florets in a pan with the diced beetroot, carraway and cumin for 2 minutes and season.
When the cauliflower develops a nicely toasted crust, add pak choi for 30 seconds.
Season with salt and pepper.
Pan fry the aubergine on all sides.

To plate up

Spoon the cauliflower puree into the centre of the plate.
Spoon the cauliflower and beetroot mix on top of the puree.
Place 2 of the pan-fried aubergine on top.
Garnish with pomegranate seeds and slices of raw kumquat.