Roast turkey crown with port gravy and pork stuffing
The perfect Sunday roast for Pubs. Try this turkey recipes and serve your guests a heartwarming main course with a good portion of port gravy.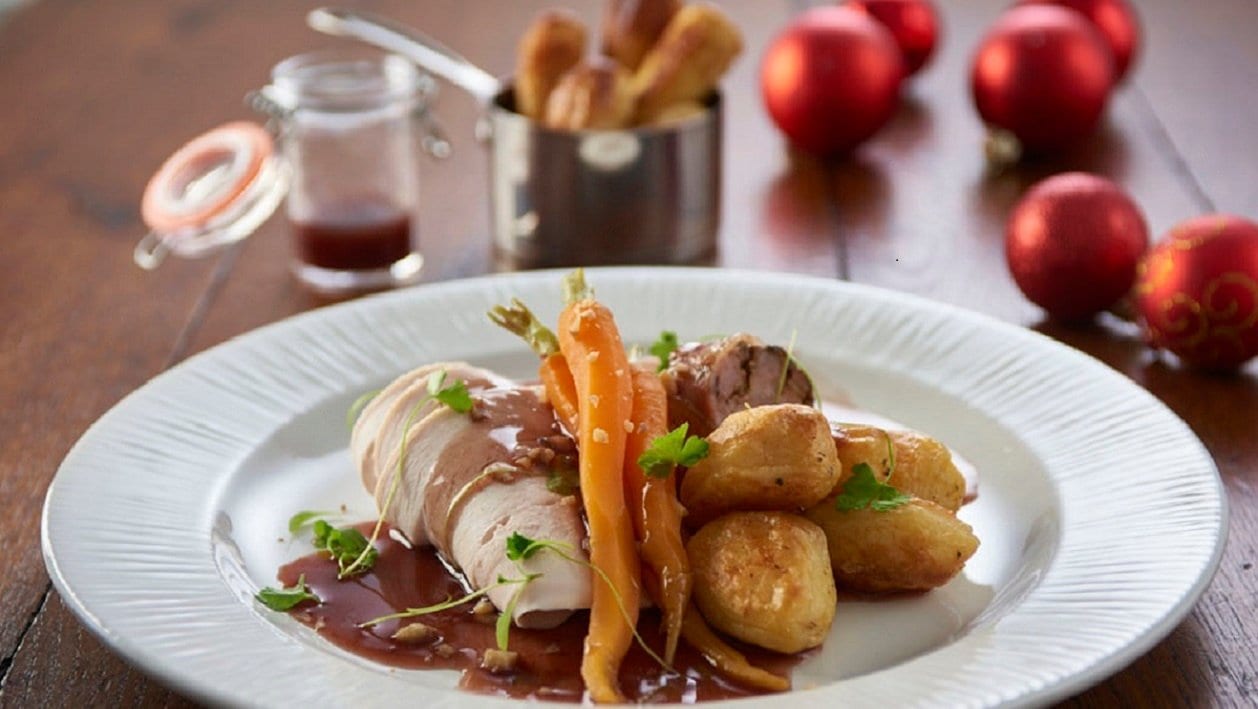 Ingredients
For the turkey:
Ground black pepper

1.0 g
For the stuffing:
Prunes canned in juice, drained

100.0 g
For the gravy:
White Chicken Stock (scratch)

2.0 l
Preparation
For the turkey:

Season the turkey crown and rub the butter over the top then roast for approximately 90 min. or until just cooked, turn upside down midway through cooking.
When cooked, allow the turkey to rest in a warm place until needed.

For the stuffing:

Chop the prunes and sage then mix with the pork meat.
Lay out bacon onto a sheet of foil and place the stuffing on top in a large sausage shape.
Wrap the bacon around the stuffing and encase in the foil, twist each end of the foil like a Christmas cracker and ensure that the meat is tightly bound.
Roast the stuffing for approx. 50 min.

For the gravy:

Bring the stock and port to the boil and reduce by half then simmer for at least 30 min. to reduce and adjust seasoning.

At service time:

Remove both breasts from the turkey crown and then carve against the grain to order.
Serve a thick slice of stuffing and generous portion of gravy with the turkey, and add the vegetable garnishes of your choice.