Coronation Chicken Quiche
Try out this special quiche recipe with chicken! It gets its delicious taste from the curry spiced crust and the extra apricot chutney filling. You can serve it with some fresh salad.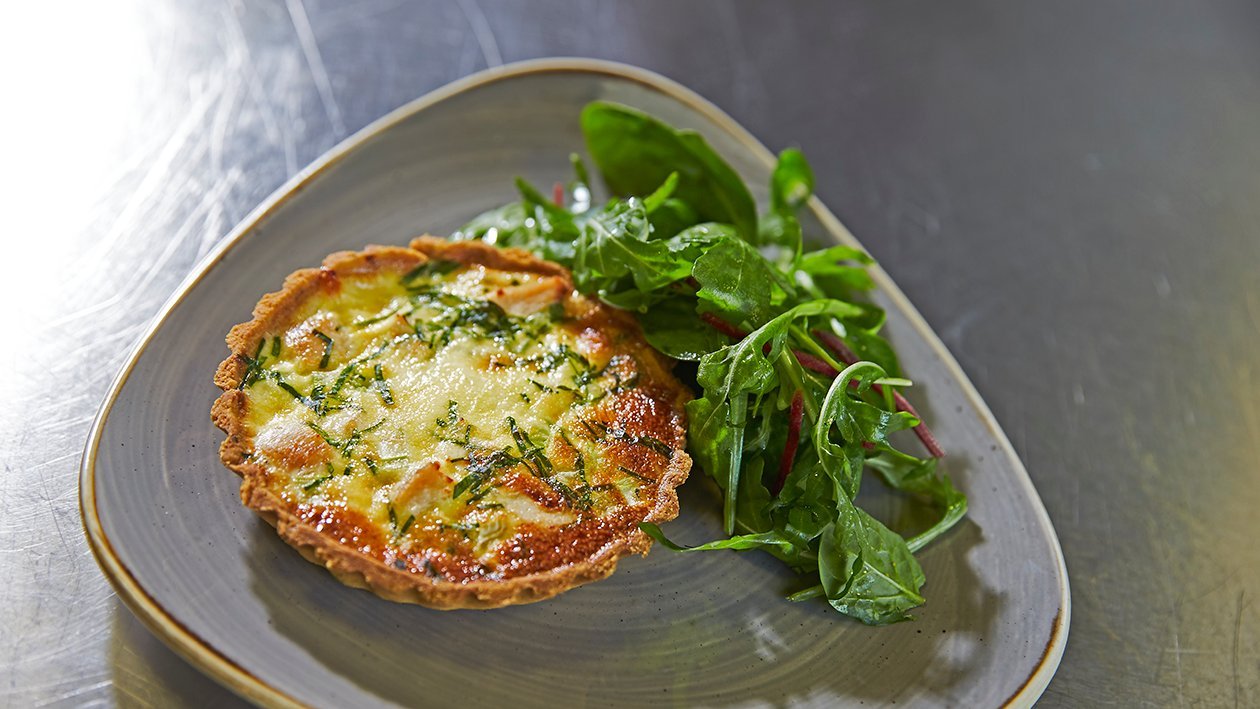 Ingredients
Advance Preparation:
Chicken breast, skinless

400.0 g
Korma spiced pastry base:
Flora Buttery 2kg

120.0 g
Spiced apricot chutney puree:
Dried apricots chopped small

100.0 g

Vinegar, white wine

75.0 ml
Quiche Mix:
Meadowland Double 1L

300.0 ml

Semi skimmed milk

100.0 ml
Preparation
Advance Preparation:

Lightly oil the chicken breast and grill.
Blast chill once cooked.
Then cut into slices.
Dice the celery into 0.5cm cubes.
Finely slice the flat leaf parsley leaves.

Korma spiced pastry base:

Rub together the flour, FLORA Buttery, KNORR Patak's Korma Paste until it resembles a fine bread crumb mixture.
Add in the egg yolks and form into a pastry.
Allow to rest in the fridge for at least an hour before use.
Roll out the pastry and line individual quiche moulds.
Let the pastry rest in the fridge for 20 min. prior to cooking.
Line the cases with greaseproof paper and then add baking beans.
Cook at 180°C until the pastry is golden brown on the outside (approx. 20 min.).
Remove the greaseproof paper and the baking beans and cook for a further 5 min. to ensure the base is full cooked.

Spiced apricot chutney puree:

Chop the dried apricots.
Place in a pan the white wine vinegar and sugar and bring to the boil.
Allow the mixture to reduce to a syrup consistency.
Add in the KNORR Patak's Butter Chicken Paste and KNORR Professional Ginger Puree and allow to boil for 1 minute.
Add in the chopped apricots and mix through thoroughly.
Mix in the water and blend to a paste.
Place the mix in a piping bag ready to build the quiches later.

Quiche Mix:

Whisk together the milk, MEADOWLAND Double, eggs and egg yolks.

Filling The Quiche:

In each of the pastry cases pipe in 20g of the spiced apricot puree and spread over the base of the pastrycase.
Add the sliced chicken evenly between the cases.
Add the diced celery and chopped flat leaf parsley evenly between the cases.
Pour in the quiche mix to the top of the case and bake at 140°C until the custard is set.