Banana fritters with blueberry compote
This banana fritters recipe is a gluten free breakfast offer that features the fruity flavours of blueberry and banana. A perfect way to start your day.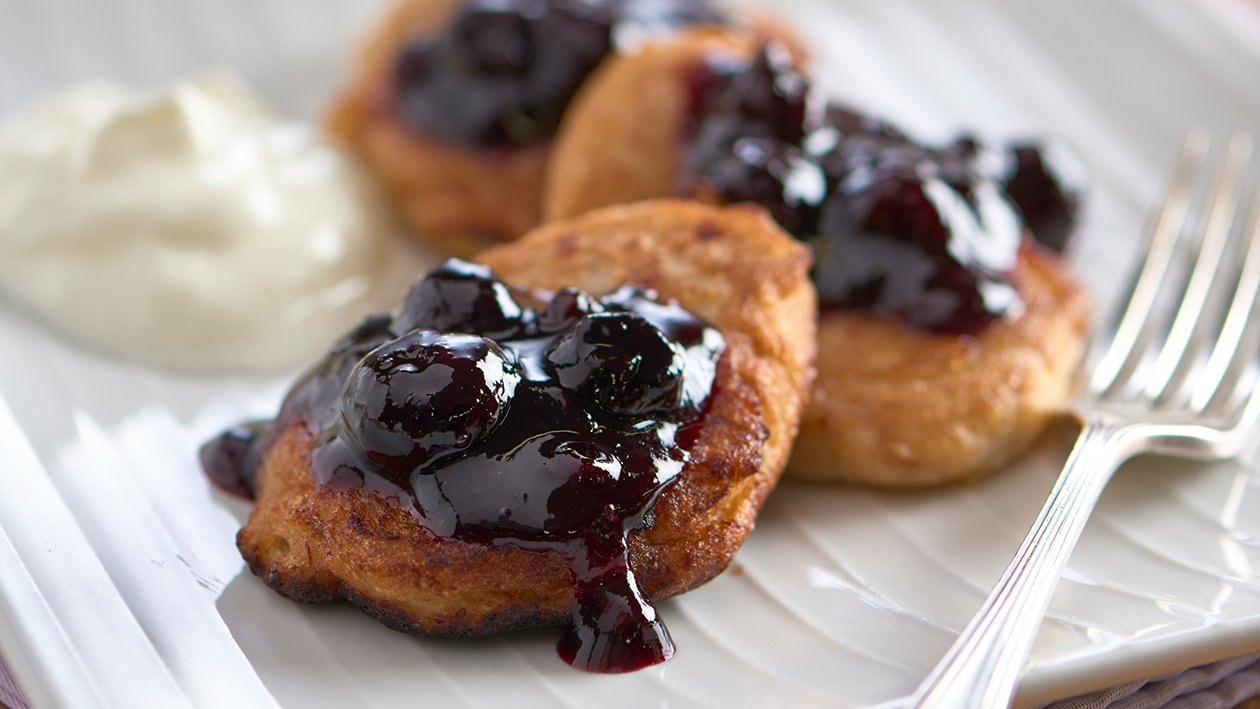 Ingredients
For the banana fritters:
Phil Vickery-GF-Gluten Free Flour

300.0 g

Bananas ripe mashed

500.0 g
For the blueberry compote:
Frozen Blueberries

400.0 g
For the Phil Vickery Gluten-Free flour mix:
Preparation
For the banana fritters:

Whisk the Gluten free flour mix with the xanthan gum, salt, cinnamon, and nutmeg to ensure all ingredients are well incorporated.
Mash the bananas to a smooth pulp.
Whisk the egg with the banana, then add the flour mix.
The consistency should be slightly runny (dropping consistency).
Heat a little of the oil in a saute pan. Drop the batter into the oil using a desert spoon. When golden, turn over to cook the other side.
When golden on both sides, remove from the pan and lay on a paper towel to absorb any excess oil.
Continue to do this until all the mix is used.
Keep warm until ready to serve.

For the blueberry compote:

Place the blueberries, sugar and water in a suitable pan and bring to a gentle simmer.
Cook for a further 5-6 min. till the blueberries start to break down and the liquid resembles a syrupy consistency.
Serve the fritters with the compote and some whipped cream cheese.

For the Phil Vickery Gluten-Free flour mix:

Mix all the flours together thoroughly or place into a food processor and pulse until mixed.
Store in an air tight container.

Disclaimer:It is the operator's responsibility to ensure that the end dish is gluten-free in accordance with the regulatory requirements and check all ingredients to ensure they are gluten-free. For further guidance please download our Gluten-Free Kitchen Guide.