Apricot bread & butter pudding with cinnamon custard
A firm hot dessert favourite in this case with the added benefit of being prepared using gluten free bread.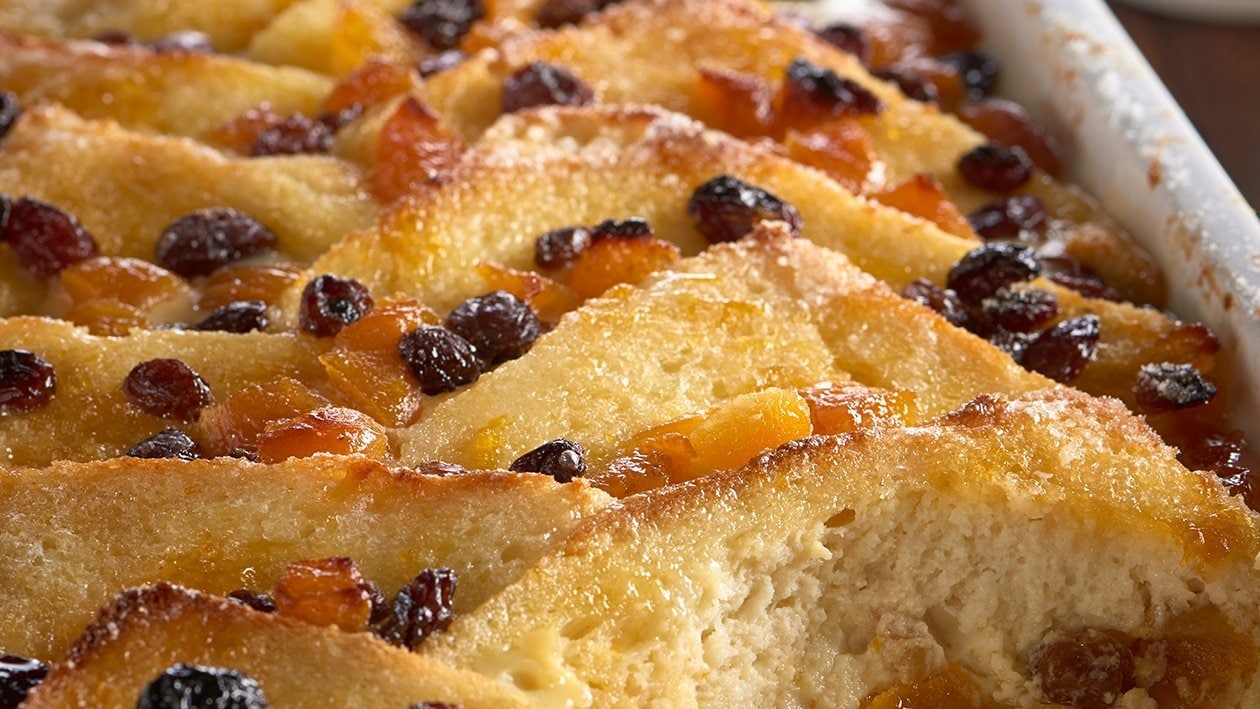 Ingredients
Cinnamon custard:
For apricot bread and butter pudding:
Meadowland Professional 250g

100.0 g

Dried apricots chopped small

150.0 g
Preparation
Cinnamon custard:

Whisk together the custard powder, cinnamon and 100ml of the milk into a smooth paste.
In a pan place in the 900ml of milk and bring to the boil.
Whisk in the custard paste and bring back to a simmer stirring continuously.
When it coats the back of the spoon add in the sugar and mix through.
Store hot until required.

For apricot bread and butter pudding:

Spread each slice of bread with a light layer MEADOWLAND Professional 250g and then with the apricot jam.
Cut the bread into diagonal halves.
Whisk together the eggs, milk and vanilla essence.
Place the bread in an oven proof dish and create an even layer then add on a third of the dried fruits and repeat until all of the fruit and bread have been used.
Evenly pour the milk and egg mixture over the bread.
Leave the pudding for a few minutes to allow the bread time to absorb some of the liquid.
Then sprinkle over the caster sugar and mixed spice.
Bake at 180°C for 25-30 min. or until the custard is set.
Serve warm with the cinnamon custard.

Disclaimer:It is the operator's responsibility to ensure that the end dish is gluten-free in accordance with the regulatory requirements and check all ingredients to ensure they are gluten-free. For further guidance please download our Gluten-Free Kitchen Guide.